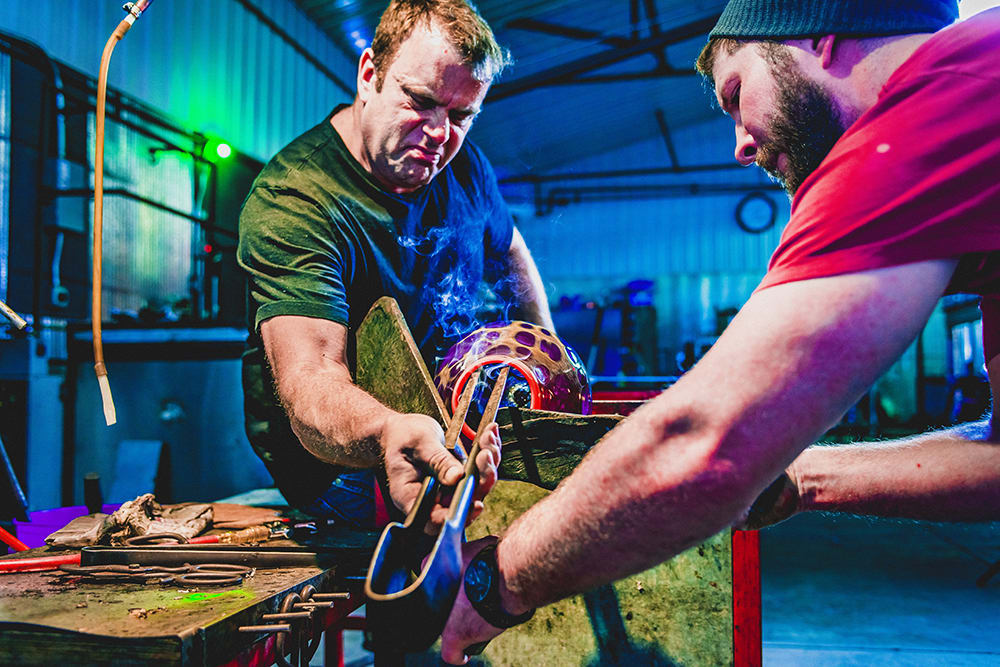 Beautiful scenery, wildlife, and tourist attractions have been the main staple of Laurelville for many years. Artist Jack Pine, a local celebrity, believes that Laurelville is an ideal spot to live and work.
Pine's journey back to Ohio after becoming a world-class glassblower hasn't always been easy. Jack, who recently opened his studio in Laurelville, says it has been a long and hard road to get back home, but he believes his tough expedition was worth it. After studying at the College of Art and Design, Jack served a term in the Army. He then returned home only to venture out west a short time later. Seattle and Denver is where he mastered his trade in glassblowing. He admits, "It was rough at times; I lived in my car in a park for a few months until I found a job at a local studio." After working side by side with different artists, Pine realized his vision and it was clear even as a young adult, he
wanted to open his own shop.
Jack Pine's return back east located him on 5th Avenue in Columbus, Ohio where he spent over 10 years until the fall of 2017 when he relocated back to his roots. Pine, who spends nearly every weekend on the road at trade shows, recalls his first Pumpkin Show back in the early 90's. The classic orange pumpkin with the green stem was a hit, and the rest, as they say, is history. "Circleville has been very good to me; I can't thank them enough for supporting my passion and helping me through some tough times," he declared. Jack recently added a new, much larger, glass blowing kiln to his work space. This allows him to be more versatile and make larger glass-blown creations. Each item begins with a portion of clear glass from a furnace of 2,000 degrees. Then the glassblowers add colored enamels and precious metals to create a unique product adorning beautiful colors.
Pumpkins, bird feeders, vases, acorns, ornaments, and hearts for Valentine's Day are now available. The glass masters vision for his studio has amplified since the move to Laurelville. The goal is to eventually offer classes and tutorials given by world renowned glassblowing professionals for anyone and everyone who is interested.
Although you can find Jack Pine's art across the country in galleries and museums, his passion for his work and adoration for his hometown has finally brought him full circle.
Jack Pine Studios of Hocking Hills
21397 OH 180, Laurelville, Ohio
www.jackpinestudio.com
(740)-332-2223
Monday-Saturday
10am – 4pm