If you're looking for a fun, educational, and family-friendly event to kick off the start of spring, then Ashville's annual Viking's Day Festival may be just what you're looking for! The Viking's Day Festival is organized by Nancy Vallette and her husband Ed, with the help of Dave Rainey. The festival is set up in Ashville Park, right in the center of town next to the the elementary school. To take part in this fun, unique, and educational event, participants are asked to bring canned food items to donate to the local food pantry; these will serve as tickets into the event. Not only will this event be a great opportunity to spend time with your family, but it's also an opportunity to give back to the community, as this event helps to stock the local food pantry for several months with the admissions donations, so it is encouraged to give generously.
Some of you may be wondering, "But what exactly IS it?" Well, allow me to shed some light. The Viking's Day Festival was started when Nancy and Ed Vallette were approached by the owner of the Ashville Apothecary about an idea to support the village of Ashville with some events. At this point in time, Ashville had already established a 4th of July event, but they wanted to see the community provide an event for the spring and early fall, as well. Ed and Nancy supported the Teays Valley middle school students in hosting their Renaissance Festival, which was tied to the larger festival held in Waynesville, OH. Because of their connection to this festival, they decided that a smaller scale version of the Waynesville Renaissance Festival would be the starting base for their new event. This decision led to discussions on how to make the festival personalized and unique to Ashville, specifically: A Viking Festival.
According to Nancy Vallette, the Viking's Day Festival consists of 45 to 60 vendors, many volunteers, and many incredible and knowledgeable reenactors who participate in living and recreating their historical piece of history. "The vendors put together mostly handmade items you will not see together anywhere else; it comes together for an event that is like no other, and we build it for a very quick weekend in the Ashville Park around a 40 foot Viking ship stage." Drawing people from roughly eight states, Nancy assures that the festival is filled with Vikings, jousters, food, vendors, things to buy, a ship you can actually get on, horses, belly dancers, music, homemade ice cream, homemade root beer, hand carved bone knives, hand woven dresses from an actual loom, people making chainmail in front of your eyes and wearing it, turkey legs, and the list goes on and on.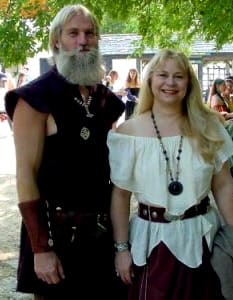 The festival is set up on April 27th, followed by an all you can eat dinner sponsored by the Ashville Men's Club that is open to the public. The actual festival itself takes place on April 28th and the 29th, from 10:00 a.m. to 7:00 p.m. on Saturday and 10:00 a.m. to 5:00 p.m. on Sunday. The Viking's Day Festival would not be possible without the help of Dave Rainey and the help and support of Ashville's community leaders, as well as the help and support of the Men's Club. Nancy and Ed send thanks to the many people who have invested into the presentation of this festival, without whom, the festival would not be possible. This April, make sure you stop by and show some appreciation to the hard work that these dedicated community members have shown, and experience a festival unlike any other.
For more information see, their website or their Facebook page.
All images courtesy of ashvillevikingfest.com.